Devonshire Rambler Rail Tour
1966 - 2016
A 50 Year Then and Now special
The Waterloo to Exeter main line is considered one of the great railway journeys. Running through the chalky Wiltshire countryside to Salisbury and through lush East Devon to Exeter, the line was know for it's winding route and steep gradients.
In the late 1960's the mainline was downgraded and large parts became single line with passing bays at places including Yeovil Junction. Axminster and Honiton. Perhaps the most famous train to travel this route was the Atlantic Coast Express.
In 1966 there were a number of steam hauled special trains to Exeter, each proclaiming to be 'the last'.
I traveled on one of these on Sunday 26 June 1966. The Devonshire Rambler was organised by the Southern Counties Touring Society and ran from Waterloo to Exeter Central, on to Westbury and back to Salisbury and Waterloo (via Southampton).
50 years later, on Sunday 26 June 2016, I retraced the journey from Woking through Salisbury to Exeter Central.
The tour was hauled by West Country locomotive no. 34002 'Salisbury' from London Waterloo to Salisbury. It was quite a fast run with the engine reaching 90 mph on the stretch from Worting Junction to Salisbury.

Merchant Navy locomotive no. 35023 took over at Salisbury for Exeter leaving at 11.40. In 2016, I traveled on a SW Trains service which called at Salisbury at 11.45. the two pictures on the right were taken 50 years apart - give or take 10 minutes.

35023 took the train to Exeter Central, where it was watered, continuing to Exeter St Davids and on to Westbury.

Rebuilt West Country locomotive no. 34100 'Appledore' took over for the run to Salisbury, Southampton and back to London Waterloo.

Two sets of pictures from Exeter. The tour train left at 13.43 whilst I arrived on the service train at 13.40. Therefore these sets of pictures were taken 50 years, less around 20 minutes, apart.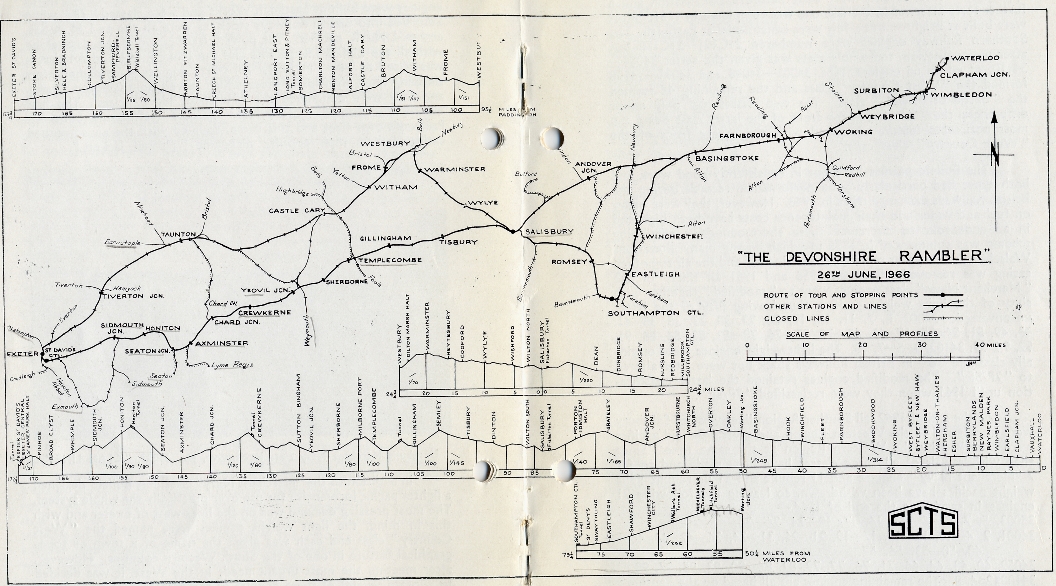 For the record, a picture of 34100 after arrival at London Waterloo.

The engine was in immaculate condition, not unusual for a loco based at Salisbury shed who took pride in their appearance.

34100's claim to fame was haul the final steam hauled Golden Arrow Pullman train. The smoke deflectors still have the fixings for the golden arrows.
Published 13 September 2016
---
All images, audio, text and documents on this website are copyright Des Shepherd who asserts his intellectual property rights under the Copyright, Designs and Patents Act 1988
No images, audio, text or documents may be reproduced in any form without written permission of Des Shepherd.