As the 2018/19 football season gets under way and England bask in the glory of their progress in the World Cup, there is one story that seems to have missed the mainstream sport press.
AFC Wimbledon
The club was set up by supporters of the old Wimbledon FC back in 2002 when their club was moved from SW London to Milton Keynes.
So what have AFC Wimbledon done that merits particular mention. They are currently in League 1 and will play in this league again next season. But the team that was taken to Milton Keynes back in 2002 and had also been in League 1 last season have been relegated to League 2.
For the first time in the history of the club, in the 2018/19 season, AFC Wimbledon will be playing in a league above MK Dons. This is particularly satisfying to AFC Wimbledon fans that saw the club start in the low levels of non league football and work their way up to their present position – unlike MK Dons.
So first let's look at why the old Wimbledon FC moved.
Wimbledon FC was founded in 1889 and was based at Plough Lane from 1912 to 1991. During that time they moved from being a non league club to one of the founding members of the FA Premier League.
One memorable success was the 1988 FA Cup Final when they beat the League winners, Liverpool. They were known as the "Crazy Gang", this being down to the boisterous and eccentric behaviour of the players.
In 1991, following the publication of the Taylor Report recommending all-seater grounds for top-flight clubs, Wimbledon left Plough Lane to ground share with nearby Crystal Palace at Selhurst Park.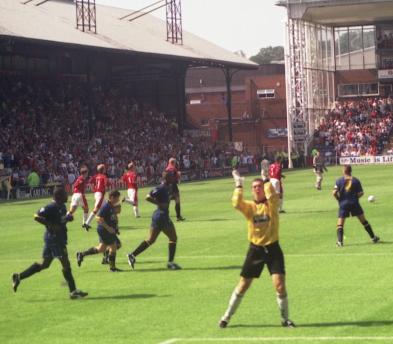 Wimbledon FC "at home" at Selhurst Park against Manchester United - August 1996
This was supposed to be a temporary arrangement while Wimbledon sought a new stadium site in south-west London. But with no tangible success, the club's Chairman, Sam Hammam proposed new locations for the team outside London, including Dublin.
In 1997 Hammam sold Wimbledon FC to two Norwegian businessmen, Kjell Inge Røkke and Bjørn Rune Gjelsten and the following year the Plough Lane site was sold for a supermarket redevelopment.
Meanwhile in Buckinghamshire, the Milton Keynes Development Corporation had for a number of years planned a stadium in the town which would host top-flight football. They were keen on the idea of an established League team relocating there.
In 2000 a consortium led by Pete Winkelman proposed a large retail development in Milton Keynes including a Football league-standard stadium. Luton, Wimbledon, Barnet, Crystal Palace and Queens Park Rangers were all approached to consider a move to Milton Keynes.
At Wimbledon, Charles Koppel was appointed chairman and in 2001 announced that the team intended to relocate to Milton Keynes. Koppel said the club would otherwise go out of business.
Such a proposal was unprecedented in English football and the Football League refused permission for the move. Koppel launched an appeal, leading to an FA arbitration hearing and the subsequent appointment of a three-man independent commission. In May 2002 this commission ruled in favour, two to one, for the move.
The League and FA contributions were summarised in the commission's report as concerns that a relocated club would, in effect, "drive a coach and horses through the pyramid structure", "herald, or risk heralding, a franchise system for football whereby the investors in football could relocate clubs at will" and "dramatically change the defining characteristics of the English domestic game where clubs are identified with the locality or community built up over time"
For its part, Wimbledon's case for the move was based on the club's precarious financial situation and a claim that its case was unique. It stressed that Wimbledon had lacked its own home stadium for 11 years. Milton Keynes was Wimbledon's "last chance of financial survival".
In their submission, they claimed that Wimbledon's identity—"traditions, history, colours, name, strip, stadium design and the like"—would be preserved in Milton Keynes and supporters from London would be offered subsidised travel and tickets.
After the decision was made – which was final and binding, the FA stated that it still strongly opposed the relocation. It emphasised that its recommendation to the commissioners had been against the move. The chief executive of the FA, Adam Crozier, said that he believed the commission to have made an "appalling decision".
A spokesman for Milton Keynes Council said the people of Milton Keynes were looking forward to the team's arrival, stating: "It will be of great benefit to the city. Milton Keynes is becoming a city of sport."
Looking at all the above, firstly Milton Keynes is not a city and the promise of keeping Wimbledon's identity and offering fans subsidised travel – well that never happened.
Milton Keynes at that time had it's own football team, Milton Keynes City, a non league team which, with the right support and injection of capital, could have risen through the football pyramid to achieve league status. However, Pete Winkleman's consortium preferred to buy a league place rather than develop a home grown team.
Milton Keynes City FC was subsequently wound up.
As the FA said at the time, if a club breaks links with its community and moves to a new community with a new identity and yet won't relinquish its place in the pyramid such a move would have a fundamental impact on the way football is organised.
So in May 2002 what could fans of Wimbledon FC do?
The birth of AFC Wimbledon
The three man commission in its report said that "resurrecting the club from its ashes as, say, 'Wimbledon Town'" would be "not in the wider interests of football."
So were the fans going to trek up the M1 to Milton Keynes?
No way!
Following the FA's announcement of their decision, a group of Wimbledon supporters led by Kris Stewart and fellow founding members Marc Jones and Trevor Williams met in The Fox and Grapes pub on Wimbledon Common to plan what was to be done next as part of the protest.
It was agreed that, as there was no right of appeal, the only option was to start the club again from scratch. On 30 May 2002 the idea was put forward in a Wimbledon Independent Supporters' Association meeting to create a new community-based club named AFC Wimbledon and an appeal for funds was launched.
On 13 June 2002, a new manager, a playing strip and badge, based on that of the original Wimbledon FC, and a stadium were unveiled to fans and the media at the packed-out Wimbledon Community Centre.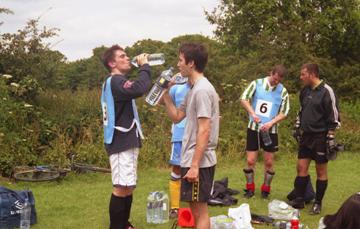 Player trials on Wimbledon Common
In order to assemble a competitive team at very short notice, AFC Wimbledon held trials on Wimbledon Common on 29 June 2002. This was open to any unattached player who felt he was good enough to try out for the team. The event attracted 230 hopeful players, from whom the club's squad for their inaugural season was eventually chosen.
In the 2002–03 season, AFC Wimbledon competed in the Combined Counties League Premier Division (CCL) under the management of former Wimbledon FC player Terry Eames.
Their first ever game, a pre-season friendly against Sutton United on 10 July 2002, resulted in a 4–0 loss in front of a crowd of 4,657
Their first competitive match in the CCL was away to Sandhurst Town where around 1,500 supporters cheered their team to a 2-1 victory.
| | |
| --- | --- |
| Kris Stewart and Ivor Hellor at Sandhurst. | Kevin Cooper scored AFC Wimbledon's second goal against Sandhurst Town. |
I'm proud to say I was there – standing on hay bales to get a good view. This venue was very different from Selhurst Park or even Plough Lane, but to me demonstrated the delights of non league football.
The demise of Wimbledon FC and the creation of MK Dons
Meanwhile, Wimbledon FC started the 2002/03 season at Selhurst Park, due to a lack of a suitable ground in Milton Keynes that met the Football League requirements.
The attendance at Selhurst Park on their first game of the season was officially announced as 2,476, including 1,808 supporters from Gillingham. As the season progressed, AFC Wimbledon claimed an average crowd of over 3,700, whilst Wimbledon FC attracted less than 3,000, most of whom were followers of visiting teams.
Wimbledon FC's relocation was delayed for over a year and in June 2003 the club went into administration.
Pete Winkelman had not intended to own Wimbledon FC himself. His plan had been to work alongside it while the new stadium was built, and then give the ground to the club in exchange for shares and a place on the board. He had not expected it to go into administration. With the move threatened and the club facing liquidation, he made the decision to take it on himself.
He secured funds from his consortium for the administrators to pay the players' wages, keep the club operating, and pay for the necessary work for the National Hockey Stadium to host League football. He made clear that his group's interest was conditional on the club moving to Milton Keynes.
Wimbledon FC played their first match in Milton Keynes at the National Hockey Stadium in September 2003.
Winkelman's Inter MK Group bought the relocated club in 2004 and changed its name, badge and colours. The team's new ground, Stadium MK, opened three years later.
Meanwhile, Milton Keynes City FC went out of business before the start of the 2002/03 season following an unsuccessful drive for new directors and investors.
The ups and downs of the two clubs
So how have the two teams faired?
AFC Wimbledon had 6 promotions since 2002. 5 of these were over a 9 year period which saw them climb from the Combined Counties League and get into the Football League.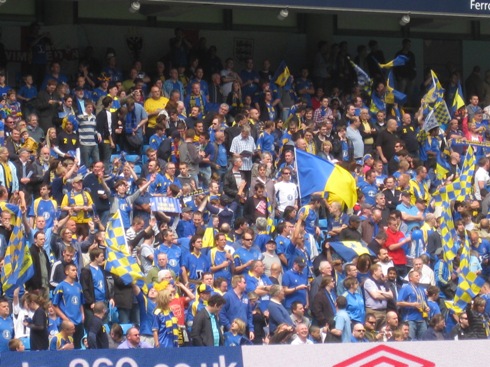 AFC Wimbledon fans at the playoff final that saw the team promoted to the Football League in 2011.
They played in League 2 before their final promotion to League 1 after the 2015/16 season.
In contrast, MK Dons had 3 promotions and 3 relegations. They started off in League 1 but at the start of the 2018/19 season ended up on League 2. (Update: After a season in League 2 they secured promotion back to League 1 so since the move of the club to Milton Keynes they are in the same league as they started off in.)
Back to the end of the 2017/18 season and in January 2018, the MK Dons chairman Pete Winkelman says it has been "an absolutely horrible year" for the club but insists he still has work to do before seeking investment.
Winkelman has led the Dons since they were founded in 2004 and says the club has lost him £3m in the past year.
He told the BBC in an interview that: "To be going backwards, it's terrible and it wasn't supposed to happen. I'll be honest, I am worried - this is absolutely not where we wanted to be, it's not where we can be."
He told BBC Three Counties Radio that he wanted "to apologise to our supporters and the city of Milton Keynes - this is not what we expect.
"I thought going down from the Championship was bad. To be in this position is just unthinkable. None of us planned or expected. It is probably the worst ever thing that has happened."
Plough Lane
Meanwhile what of the spiritual home of Wimbledon - Plough Lane?
The old stadium was demolished and is now the site for a housing complex.
The site of the old Plough Lane ground.
In December 2017, AFC Wimbledon was granted permission to begin work on constructing a new 11,000-seater stadium (which could be expanded to hold up to 20,000 in the future) on the site of Wimbledon Greyhound Stadium. The new ground will be only 250 yards away from the original Plough Lane, Wimbledon's home from 1912 until 1991.
Update (2 November 2020)
On the 18th anniversary of the FA's independent commission sanctioning Wimbledon FC's move to Milton Keynes, AFC Wimbledon signed the final construction contract that clears the way for their return to Plough Lane. The final game was played at Kingsmeadow without any fanfare and earlier than planned due to Covid 19.
AFC Wimbledon started the 2020/21 season at another temporary home - Loftus Road whilst the new Plough Lane stadium was completed.
But on Tuesday 3 November 2020 - AFC Wimbledon played their first game at Plough Lane. Because of Covid 19 restrictions, it will be behind closed doors and we could only share the moment watching a video stream. It will be one hell of a day when AFC Wimbledon fans can actually come and see their team play at Plough Lane for real.
But what a journey - from August 2002 when fans stood on hay bales at Sandhurst Town to playing in their own stadium in Plough Lane.
The moral of the story
After the decision by the commission to allow Wimbledon FC to relocate, the Football Association changed their rules to ensure such a situation does not happen in the future.
MK Dons could have supported MK City (which was subsequently closed), but instead bought a club and a league place.
Did MK Dons earn their place in the Football League?
Many would argue not - unlike AFC Wimbledon who earned their place in the League 1 after starting in level 9 of the football pyramid.
Not bad for a club whose creation was, to quote the three man commission, "not in the wider interests of football".
And that is why in July 2018 AFC Wimbledon fans have a smile on their faces - and why in November 2020, despite the Covid-19 lockdown, we have an even bigger smile!