---
Irmgard's Lebenslauf

Her story continues . . .

Part 5 - Family Life.
---
Phil and I decided to get married and we had a very nice wedding service at St. Edward's Church in the market place in Romford on 10 May 1951.
Our wedding reception was plain. Rationing was still in force but some neighbours did some baking and prepared a nice reception.

Since we could not buy a house and flats were scarce, Phil's parents kindly offered us accommodation in their house. We shared the kitchen, but otherwise all was done in the one upstairs room. It was bedroom (a put-u-up), dining room (in the alcove), office and later a nursery.
On 28 February 1952 our first son Desmond was born.

In 1955 we managed to have a small bungalow built in Rayleigh (for £1500!) and we enjoyed 5 idyllic years there.
On 27 April 1957 our second son, Gordon, was born at home. The delivery was straightforward but there were complications immediately afterwards. Fortunately these were recognised by the midwife, Nurse Millard, who called our GP, Doctor Nicholls, and even though it was a Saturday evening, was able to come round, and possibly saved my life.

On another occasion while still at Rayleigh, Desmond fell ill. I took him to the doctor, a less experienced GP and he diagnosed a tummy upset. However, Desmond's condition worsened and I summoned Doctor Nicholls. He looked at Desmond and said, "That is no tummy upset, it is pneumonia." I became very worried and he gave me a prescription for Desmond. As Desmond was very ill in bed and baby Gordon was in a pram in the next room, and being alone in the house, I could not leave them unattended. Dr. Nicholls very kindly offered to stay with them while I ran to the chemist for the prescription. That same evening we could see a big improvement in Desmond's condition. I am forever grateful to Dr. Nicholls for all that he did.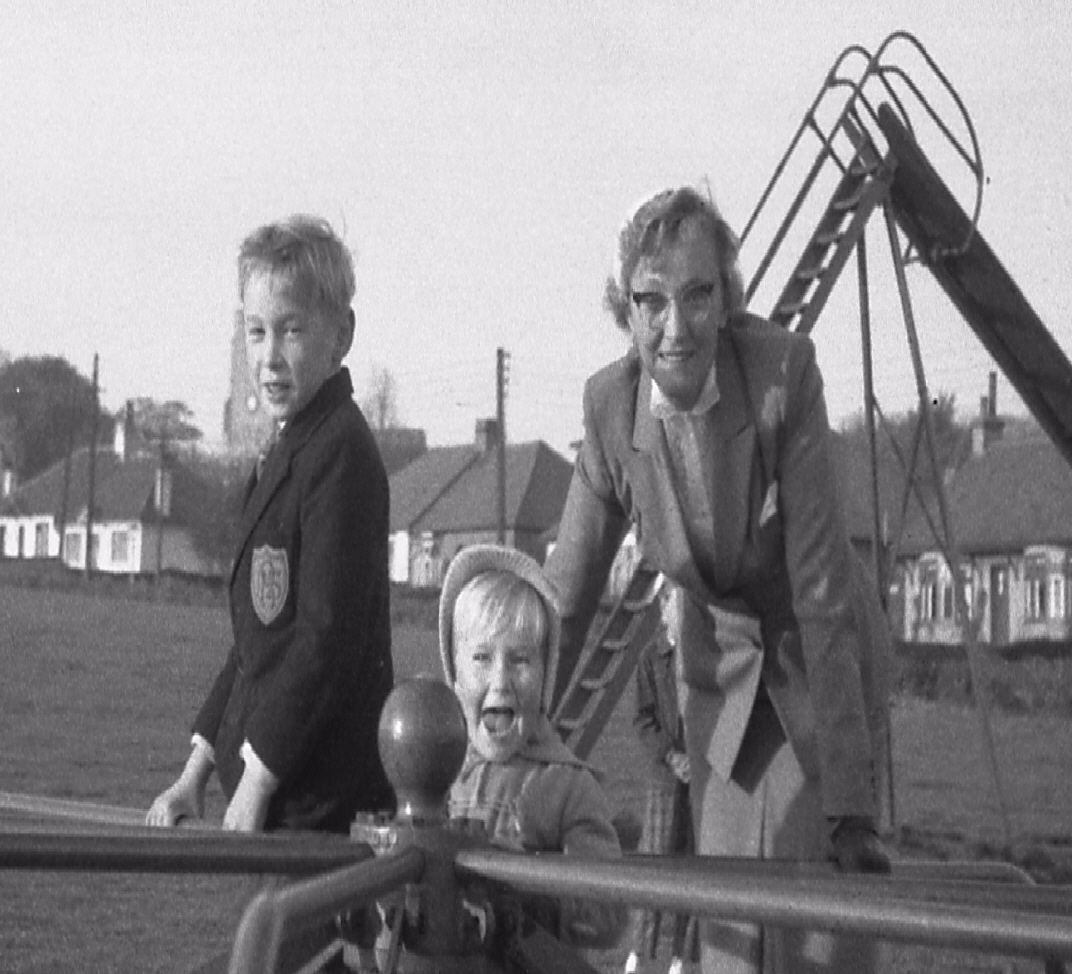 As the bungalow was rather small, In 1960, we moved into a 3 bed-roomed house in Chadwell Heath. This was our home for the next 16 years.
The garden backed onto the A12, a very busy and increasingly noisy trunk road. So in 1976, we moved to Brentwood.
Christmas 1992
We are still here, 33 years on (2009). Our time in Brentwood seems to have gone faster than ever, due possibly because I have been even busier. In 1967 I had started work as a translator in the Customs & Excise Translation Service. Soon after that I also began teaching in a language club in London and at evening colleges in Dagenham, Redbridge and Brentwood.

On Saturday/Sunday 15/16 August 1998, seven of us German nurses got together and we celebrated in style the 50th anniversary of our coming to England. We visited Oldchurch Hospital in Romford where we trained as nurses, and on the Sunday our menfolk joined us and we all had lunch at the Artichoke in Brentwood.

Phil and I have had many nice holidays. First, with the children, in England and in Germany, where my parents still lived.

Later Phil and I had walking holidays in the Lake District and elsewhere with the Holiday Fellowship. However my favourite holidays were spent in Austria, in the winter to go cross-country skiing. For Phil, that was a new experience. We went there every January for over 20 years.
When Michael (our elder grandson) was old enough we took him to Austria. He enjoyed it. A few years later it was his brother's turn. Richard too enjoyed the skiing and charmed all the ladies with his German phrases.

We stopped our skiing holidays in 2001, being well into our seventies by that time. This meant that Emily, being so much younger, unfortunately has not had the alpine experience, which her older brothers have enjoyed. But no doubt she will have other pleasures in life.

Before I finish I just want to say something more. When one learns anything new there are normally plenty of instructions to follow. Unfortunately there are no instruction about how to bring up children and it is a case of learning as one goes along. I might have made some mistakes. If so, I hope that Desmond and Gordon will overlook them. I have always tried my best and love them dearly. Also Phil and Toni and my grandchildren, Michael, Richard and Emily.
Irmgard Shepherd, 2006
---
Irmgard Shepherd passed away on Tuesday 16th January 2011 after a long illness. She is buried at the Woodman Road cemetry in Brentwood.

---
---

(c) 2021
All images, audio, text and documents on this website are copyright Des Shepherd who asserts his intellectual property rights under the Copyright, Designs and Patents Act 1988 (unless otherwise stated or acknowledged).
No images, audio, text or documents may be reproduced in any form without written permission of Des Shepherd.