---
Irmgard's Lebenslauf

Her story continues . . .

Part 3 - Adulthood and Dresden 1945.
---
In 1944 I was at last able to go to university to study dentistry. I would have preferred to have read medicine, but it took many years to graduate as a doctor. I went to Breslau, the capital of Silesia. I had a nice rented room and got on very well with my landlady. It was a lovely happy time with lots of friends, but it was all too short.
Breslau 1944. The university (left) and cathedral (right).
The war had not touched Silesia, it was the north and west of Germany which suffered most. After a few months we all had to cease our studies and help in the war effort. I was sent into a factory where I had to pack items. It became known that I was able to use a typewriter, I had often practiced in my father's office, and so I was sent into the office instead of the factory floor. Later I was sent to work at the Labour Exchange.

Christmas 1944 and I went home. It was nice, as always, but the mood was strange everywhere. The future looked uncertain. On the 27th December 1944 I returned to Breslau and spent New Year's Eve alone in my comfortable room. And that was when any connection with my parents, be it by post, rail, road or phone, was severed. I had no idea what happened to them and they had heard nothing from me.

My landlady had left her flat in order to be with her husband and left me to take what I wanted should I want to leave. Russian troops were advancing and there were air raid warnings. In the middle of January the Russians came closer and Breslau was declared a stronghold. All women and children had to leave.

I packed my suitcase with clothes and left the flat. My Aunt Walli, who also lived in Breslau, refused to leave. I was on my own. After some time my case seemed too heavy. There was deep snow. I returned to my room, took a deep drawer and packed everything in that. I tied some string to one end and now I could pull my "sledge" easily. Then I thought again. The snow will not always be there and one does not get very far with a "drawer". Back again.

This time I took my suitcase, removed the non-urgent things and replaced them with photographs and documents. This seemed the most sensible thing to do and turned out to be of great help to me later. I found it hard to leave my accommodation not knowing whether I would ever see it again. On the approach to the station there were thousands of people who all wanted to travel westwards by train. The queue moved very slowly. One tried to get on any train as long as it went west. The trains were chock-a-block. It would soon be my turn. The noise of the Russian gun shots were getting closer. The next train, which I managed to squeeze into, went to Dresden.
---
Dresden was a wonderful baroque city in the county of Sachsen (Saxony) and which had not suffered any war or bomb damage.
Dresden 1945 before the bombing.
I carried 2 addresses with me. One was in Berlin, that of my landlady's sister. The other one was of a friend of my father in Dresden. When I finally found their address I was welcomed with open arms and made very comfortable. The papers I had from the employment office in Breslau I presented after a few days to a similar place in Dresden. I was sent to an office in the main street in the city and had to do clerical work. A friend from the university days in Breslau gave me his parents telephone number and said I should visit them should I ever be in Dresden. So I gave them a ring and asked if I could see them on the 13th February. They could not make it that day and we arranged a meeting for the following day. But it was not to be.

Fate was on my side for I shall never forget the giant bombing of Dresden on the night of the 13th February 1945. Had I visited them on that night I would not be alive. The friends I was staying with lived in a suburb outside Dresden and we watched the raid from their garden. Dresden was totally destroyed on that night. Had this happened during the day I would have been burnt or asphyxiated. The street where I worked was very narrow and people went to the cellars to escape the bombing. But the fires were so fierce that they took up all the oxygen and people could not breathe. The town was burning for several days. A couple of days later my "aunt" and I walked into the ruined town to see if we could find my other friend's parent's home.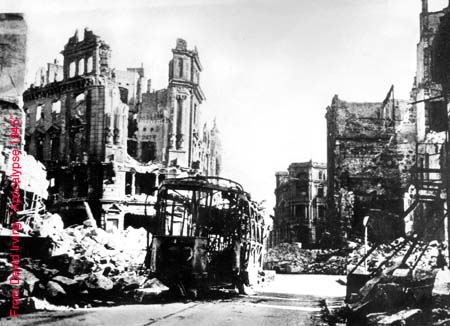 But it was a sad picture. Nothing but rubble and in some places notes pinned to the rubble asking for people or saying, where they were. I don't know what happened to the people I was to visit.

A few days later a postcard arrived. It was from Mutti who asked our friends whether they had heard from me, as they did not know where I was. Mutti, together with my sisters, Karola and Helga, had been transported with thousands of other refugees from our hometown to Austria, where they were given some sparse accommodation. Mutti wrote her address on that card.

I did not even bother to reply. I packed a carton with my things (I had lost my suitcase in the bomb attacks) and hoped to get to that little place called Goisern in the saltmine area in Austria. I caught a train that went via Prague in Czechoslovakia to Austria with numerous stops because of air raids. After a lot of enquiries and changes I finally got onto a local train which took me to Goisern.

The same day, just a few hours before I arrived, Mutti's parents had also arrived. Having seen the misery of a refugee's accommodation they decided to try to go back home. But they did not get there. They were put into a Czech camp, which was worse. They decided to return to Austria. Then I arrived! You can imagine the buckets of tears that were shed on this re-union. Since the accommodation was inadequate I got a little room in a neighbour's house. I then tried to get some work, as without work, there were no ration cards.

There was a German military hospital in the locality that had a separate dental centre. I went to see the Chief Dental Officer, told him that I was a dental student but had to interrupt my studies and that a job as a dental assistant should be of benefit to me. He was very kind (his wife also came from Silesia) and employed me instantly as his assistant. I gained a lot of practical experience in contrast to the formal theory I learned at University. I soon made friends with some other young people and enjoyed life. One girl in particular, about my age became my best friend. Laura came from Upper Austria and stayed in a neighbouring house. After the war (June 1945), she went back home and I never saw her again. When I enquired her mother wrote to me telling me that she had been shot dead by the Russians, after a dance.

There were still some bombing raids and I remember one occasion where a horse drawn column with provisions was attacked very nearby. It came to a halt, some horses were killed and there were a lot of provisions to be had. Nobody was in charge. The soldiers tried to make their way home. I and many others took some bags and went to see what we could salvage. I came back with tins with meat and other food, which was very welcome in our diminished store cupboard. Someone saw to the horses and I think that was the only time I ever ate horsemeat.

---

(c) 2021
All images, audio, text and documents on this website are copyright Des Shepherd who asserts his intellectual property rights under the Copyright, Designs and Patents Act 1988 (unless otherwise stated or acknowledged).
No images, audio, text or documents may be reproduced in any form without written permission of Des Shepherd.