---
Irmgard's Lebenslauf
My mother was born in 1924 in Germany and had an eventful life. She lived through the second world war before coming to England in 1948. She passed away on 16 January 2011.

She wrote an account of her life which can be read here.
(alternatively, click here to download a pdf version of her story)
I was born on 23rd June 1924, Irmgard Edeltrud Hampf, in Oberglogau, a small town in Upper Silesia. Everyone called me Irmi. I am the third daughter of Karl Hampf and Maria nee Jarosch.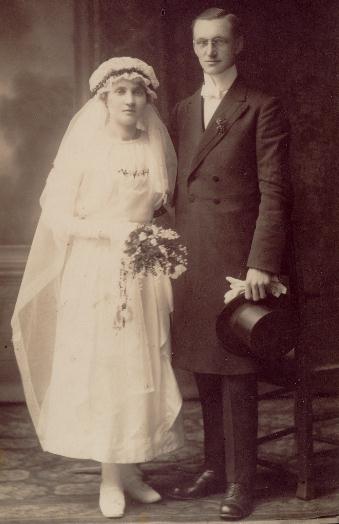 My parent's wedding picture, 1920
My parent's first child was Inge, born on the 7th March 1921, followed by Erika, born on the 25th February 1922.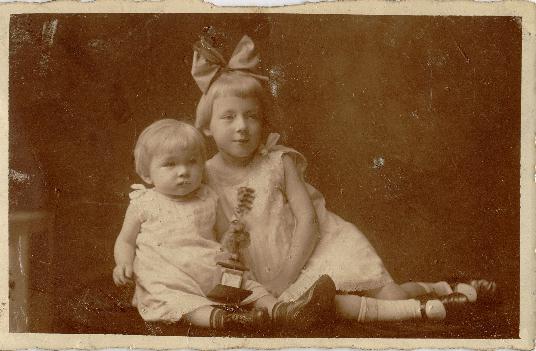 Erika and Inge, 1923
When Erika was about 4 years old, she contracted meningitis and unfortunately did not survive. She was a lovely little girl, full of fun. Her little white coffin was put in our living room and lots of people came to bid her farewell. I do not remember the occasion as I was less than 2 years old and I spent a lot of time at my mother's sister (Walli). Walli wanted children but did not have any, so I made up for it.

On the 5th September 1926 my parents had a fourth daughter, Vera. My little sister was only 6 months old when my mother, who had complications after a gall bladder operation, died. I was only 2 ¾ years old at the time.
The family home, photographed in 2004.

Our poor father was left with 3 little children and he sorely missed my mother who was a very accomplished and efficient secretary as well as a good mother. A maid and a nanny were employed to help look after us. My father was a central heating engineer and had an installation business for central heating, bathrooms, boilers etc and undertook various jobs including plumbing and lead covering on roofs (churches). He employed several apprentices and specialists.

My Aunt Walli asked my father if she could look after me since he had enough worries and could spare one of his little ones. So I stayed with her and her husband for a year and a half.

Just over a year following my mother's death my father married again and soon after came to take me home to grow up with my sisters. Our "new" mother was very nice and we liked her very much. We called her 2nd Mutti. I remember my time at Aunt Walli's and the return home.

Vera and I were sent to a kindergarten, which was run by nuns. I was a very pale and delicate child and did not want to eat but somehow I managed to survive.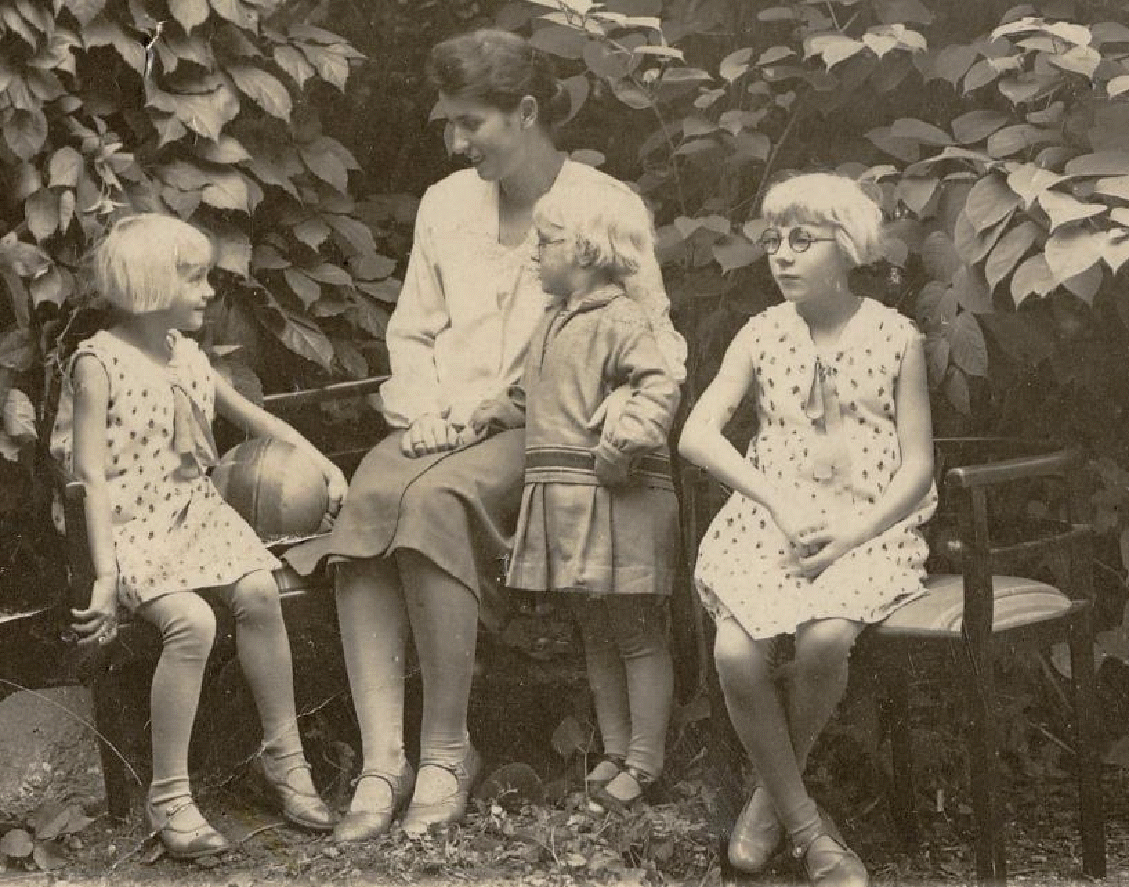 Irmi, Vera and Inge with "2nd Mutti" 1930
In 1930, when I was 6 years old I started school (in Germany all children start at 6).

Primary school was a segregated one with old-fashioned teaching methods such as "only speak when you are spoken to". Depending on the teacher, a smack with a ruler or cane for laziness or misbehaviour was not uncommon. I remember a smack across my hand because I did not answer a times-table quickly enough. A year later, a medical examination revealed a small shadow on my lung. I was sent to a children's recuperation home in the mountains with lots of good air for 6 weeks. I was very homesick there but it must have done some good.

After my return I remember countless sessions at our doctor's surgery lying under an ultra-violet lamp. Two and a half years later I had to go to another home, also in the Riesengebirge (The Giant Mountains) with good, mountain air. There were many children there and we had a good time. I don't know how much good that had done me, but I remember Mutti buying me a complete new outfit to go there, and that probably had the desired effect. I spent 6 weeks there. A small scar, which remained on my lung, is still sometimes making me cough, but a specialist recently assured me that it is harmless.

In summer we had long holidays, about 8 weeks, and before the holidays started we used to carefully watch a thermometer which was placed outside a school building. When it reached a certain temperature (I can't remember, 28 or 30 degrees C I think), lessons ceased and we were all sent home. In the summer holidays I remember going with my sisters, an aunt and 4 cousins to a nearby river. We took a picnic and bathing costumes and enjoyed playing in the water. Although we saw water rats and other creatures at times, it was a great adventure. My aunt had brought a lot of white linen (sheets, table cloths etc) which she spread on the meadow and kept sprinkling with water when they became dry, thus bleaching them snowy white by the sun.

At home, I remember on very hot days Mutti dampening lots of sheets and hanging them in front of sun-filled windows and repeatedly dampening them, thus keeping the rooms cool (air conditioning?) Later on, when I was 11 or 12 a beautiful open air swimming pool with play areas, a café, lawns for ball games and sun-bathing area was built in our town and we spent most of our summer holidays there, having bought a season ticket. We never went away in our holidays.

In winter we spent our spare time skating on the lake in our park. The pond had to be frozen a certain thickness and then it became a business proposition. A caretaker was installed who sold tickets, there were benches for us to sit on when putting on our skates, there were coat racks for garments if one became hot with the exercise and there were illuminations for the adults to skate in the evenings. I remember getting very very cold on occasions and arriving home crying, but a cuddle from our nanny, a dripping sandwich and a hot drink soon put me right again.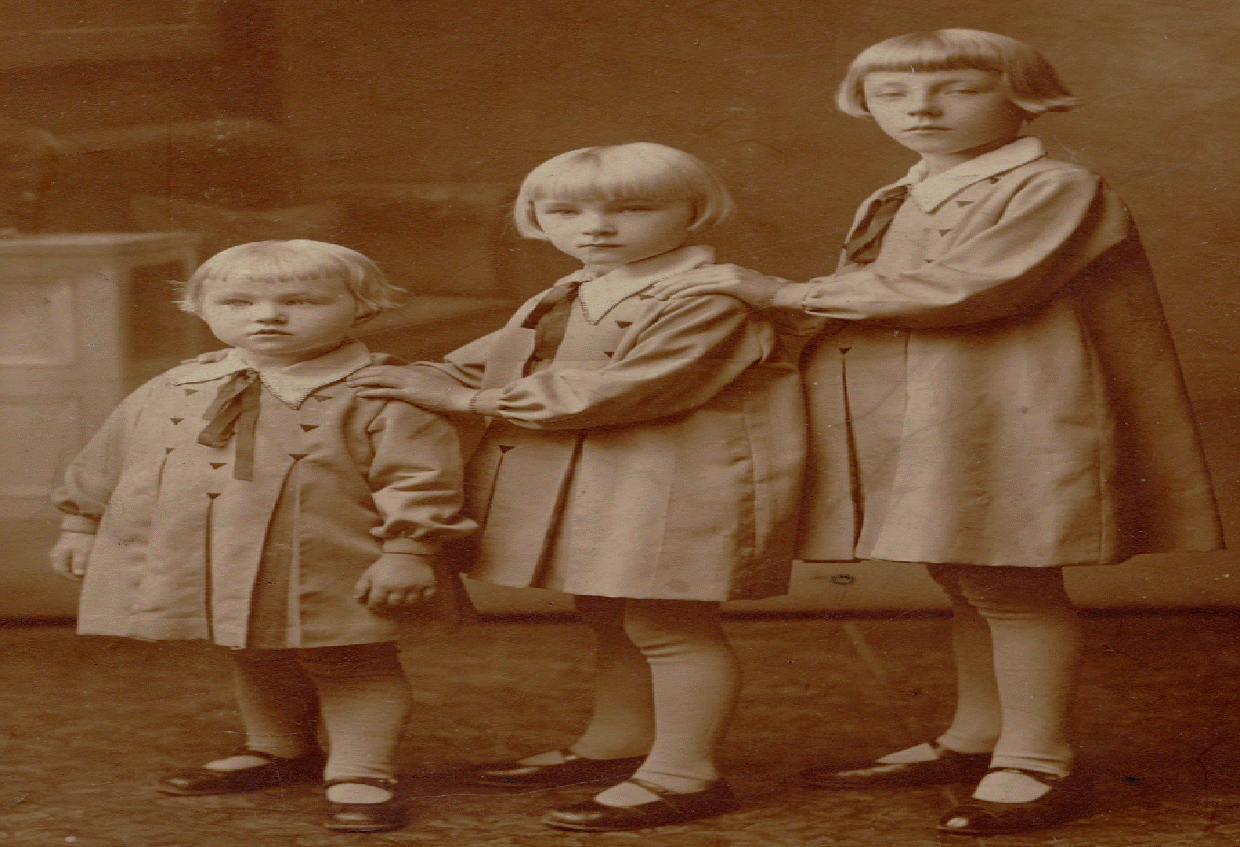 When I was 11 or 12 we also started skiing. Father Christmas very kindly obliged with skies and suits. My father was a very accomplished skier and the only holidays he ever took were in winter when he travelled to a high range of mountains called Altvatergebirge. At home our family spent the majority of winter Sundays getting up early and, having prepared our gear & rucksacks the night before, catching a train, travelling 3 or 4 stations along the line before taking a bus to the foot of a mountain called Bischofskoppe. There we put on our skis and walked steadily uphill, enjoying the winter landscape, the sunshine and the invigorating clear air. About half way, after 2 hours, there was a hunter's hut, where a lady always had some milk ready for us. On we went up, up and up (there were no lifts in those days). Finally, after about 3 ½ - 4 hours we arrived at the mountain hut (more of a restaurant).

Inside there was a wonderful atmosphere. It was warm, comfortable chairs and someone on the harmonica playing jolly and traditional tunes. There we had an excellent dinner - we were very hungry after our exertion! Then we had a good rest and afterwards we went to the back of the hut where there was a nursery slope. There we practised a bit and fooled around until it was time to go home. Just as the upward trot was gentle so was the downhill journey. The 4 hours we spent going up were now rewarded by the 40 minutes coming down, right to the spot where the bus waited to take us home. Dead tired but happy we fell into our beds. I must admit there were times when I would have preferred to stay at home on a Sunday but it became enjoyable again later on when I was allowed to bring a boy friend.

---

(c) 2021
All images, audio, text and documents on this website are copyright Des Shepherd who asserts his intellectual property rights under the Copyright, Designs and Patents Act 1988 (unless otherwise stated or acknowledged).
No images, audio, text or documents may be reproduced in any form without written permission of Des Shepherd.